HENRY VI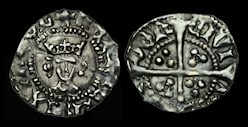 SOLD
HENRY VI - Annulet Halfpenny
mm Pierced cross. Crowned facing bus.t / CIVITAS LOnDOn, Long cross pattée - triple pellets in quarters - additional annulets in second and third quarters.
Date: 1422-30 AD
Diameter: 13+mm
Weight: 0.40g
Catalogue ref: S 1848., N1434., Withers A1
HENRY VI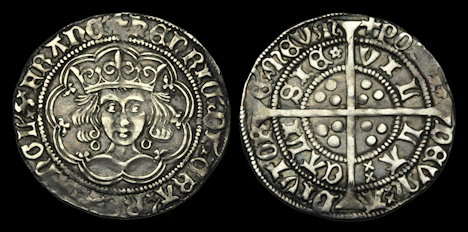 SOLD
HENRY VI - Annulet/Rosette-Mascle mule Groat
mm. crosses II/V. Annulets by neck, no fleur on breast. / VILLA CALISIE rose, Calais Mint
Date: ca.1430AD
Diameter: 26mm max
Weight: 3.79g
Catalogue ref: S 1836/1859, N 1427/1446, Whitton 12b.
HENRY VI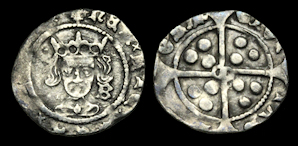 SOLD
HENRY VI - Cross Pellet Penny
mm. cross Iib/- . Pellets by crown, large B to right of neck. / CIVITAS DVneLm, rings in centre of cross. Mint of Durham by Bp. L Booth.
Date: ca.1430AD
Diameter: 16mm max
Weight: 0.85g
Catalogue ref: S 1941, N 1522