WILLIAM II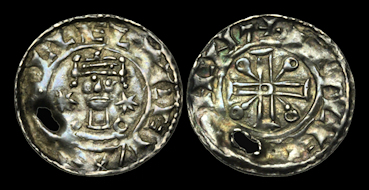 SOLD
WILLIAM II - Voided-Cross Penny
Wulfr(ic) of Canterbury. Crowned facing bust - stars flanking / + PVLFR(IC O)N CNT, voided cross pattée, with annulet at centre - all over cross annulettée.
Date: ca.1092-95AD
Diameter: 19mm max
Weight: 1.35g
Catalogue ref: S 1260, N 853
STEPHEN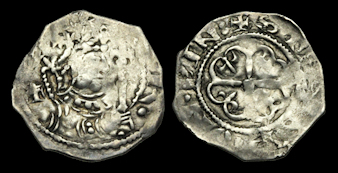 SOLD
STEPHEN - "Watford" Penny
Stephen of Winchester. Crowned bust right, holding lis-tipped sceptre. / + ST(EFN)E:ON:PIN, cross moline.
Date: ca.1136-1145AD
Diameter: 19mm max
Weight: 1.34g
Catalogue ref: S 1278, N 873